DESIGNED FOR SAFETY
The safety of Rebinyn® has been clinically studied over 8801 exposure days, and it is manufactured to
minimize risk.
Images is for illustrative purposes only.
Image is for illustrative purposes only.

ESTABLISHED SAFETY PROFILE

In clinical studies, Rebinyn® was shown to be safe and effective, with 0 inhibitors and blood clots.
MANUFACTURED WITH SAFETY IN MIND

Rebinyn® is a Factor IX recombinant therapy, which means it is made without any human-derived components, such as blood, plasma, or proteins.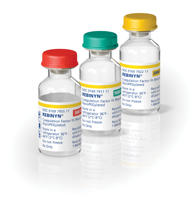 The National Hemophilia Foundation's Medical and Scientific Advisory Council (MASAC), which provides guidance on treatment for the bleeding disorders community, recommends recombinant products as a first-line therapy for previously treated patients with hemophilia B.

WHAT ABOUT SIDE EFFECTS?
The most frequently reported side effects included allergic reaction to medication (1%), itching (3%), and injection site reactions (4%)a
Your body may make antibodies called inhibitors against Factor IX (Rebinyn®), which may stop Rebinyn® from working properly. Your doctor may test your blood for inhibitors. You may be at an increased risk of forming blood clots
aIn previously treated patients with moderate to severe hemophilia (≤2% factor levels), including 40 treated for 2 or more years.

WHO SHOULD NOT TAKE REBINYN®?
It's important to note that Rebinyn® is not for everyone. You should not use Rebinyn® if you are allergic to factor IX or any of the other ingredients in Rebinyn®, or if you are allergic to hamster proteins. If you are not sure, talk to your health care provider about what this may mean for you.
See the complete list of side effects and contraindications in the Prescribing Information.
For more information, talk to your health care provider.
Animals given repeat doses of Rebinyn® showed Polyethylene Glycol (PEG) inside cells lining blood vessels in the choroid plexus, which makes the fluid that cushions the brain. The potential human implications of these animal tests are unknown.

IT'S EASY TO GET STARTED
We'll show you step-by-step how to start treating with Rebinyn®.

HOW IT EXTENDS HALF-LIFE
Rebinyn® uses technology that helps it stay in your body longer.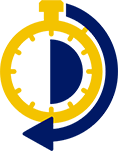 STAY IN THE KNOW. SIGN UP TO GET THE LATEST UPDATES ON REBINYN®
STAY IN THE KNOW. SIGN UP TO GET THE LATEST UPDATES ON REBINYN®